An 82-year-old New England company manufacturing their classic dolls for worldwide distribution.
The Back Story
Annalee Dolls have been a tradition since 1934. The unique designs have warmed the hearts of families and collectors for generations. The iconic dolls and characters, which are still made in New Hampshire, are known throughout the world. Annalee needed a dynamic online presence that captured the essence of its products while providing customers with an efficient browsing and ordering experience.
The Challenge
Annalee has hundreds of products in numerous categories. The company's existing site was slow, difficult for staff to manage, and had high cart abandonment. The site's e-commerce system was inefficient, and site traffic was not growing. Annalee needed online customers to find them easily and then move quickly to selection and purchase.
A Redesigned Annalee Website
FirstTracks created a new dynamic digital presence that captured the Annalee tradition in a modern and compelling site. The site is mobile responsive and presents both products and the company in a simple, highly organized manner that makes shopping easy and makes sales happen.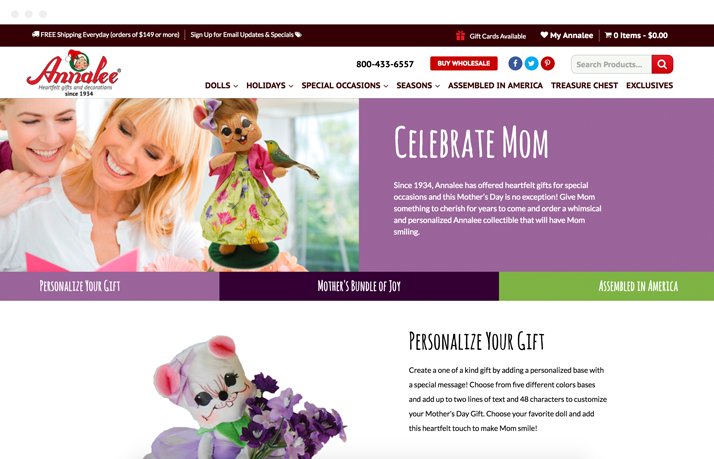 The Results
After launching the new site, the FirstTracks Digital Marketing Team developed an online marketing strategy to drive meaningful traffic to the site. We set up pay per click and email campaigns and targeted promotions backed by site analytics and data focused on sales. The mission was to increase site awareness and convert traffic into sales.
PPC ROAS Improvement

Increase in Email Subscribers

Increase in eCommerce Conversion Rate