The Rowley Agency needed a complete website overhaul. Read about how we helped them rebuild their online presence using WordPress, empowering them to take control of their online real estate!
About The Rowley Agency
The Rowley Agency, Inc. was established by Joseph Rowley in 1966. It all started from a single office in Concord, NH, and now they are one of the largest independent insurance agencies in northern New England. The Rowley Agency has offices in New Hampshire, Maine, and Vermont, and we have established a long-term presence in the communities we serve. Since 1991, when majority ownership transitioned over to Dan Church (CEO) and Gary Stevens (President), our agency has maintained consistent, steady growth and built a business on the principles of caring, understanding and guiding.
A Complete Redesign & Rebuild
The previous Rowley Agency website wasn't nearly up to the task when it came to representing of of New England's premiere insurance agencies. Things were very tight and narrow from a design standpoint. Copy was too long in many spots and too sparse in other areas. The entire site needed a complete overhaul from the ground up. We worked closely with key players at the Rowley Agency to help them rework their content strategy, usability needs, visual requirements and ultimately a much more appropriate content focus to help them better optimize organically for long term sustainable online growth.
Building a New Mobile Friendly Website
The majority of traffic to the Rowley Agency site comes from desktop computers. But mobile traffic has seen significant growth. Mobile growth probably would have been greater if the previous website had been mobile friendly. We wanted to make sure that the new mobile presentation was easy to use, simple, and straightforward but still retained as much of the bold new visual design that had been created for the new site. The end result is a light, sleek application that looks great and works even better.
Flexible Page Construction
The previous Rowley Agency website was difficult for the staff to manage and control. We wanted to make sure that the Rowley staff would have all the creative flexibility and freedom it needed moving forward. We accomplished this by using a unique blend of advanced custom fields. Our developers created a flexible layout system that operates with drag and drop rows and sections. This allows the Rowley Agency staff to mix and match the various layout features throughout the site on any page and in any order depending on need.
New and Improved Content
A essential component of this project was the complete overhaul of all website content. The previous website had a lot of long format copy and boring nondescript lists. Our online content experts worked closely with members of the Rowley Agency to make sure that information was accurate, optimized for search engines, and written with a consistent singular voice. The new website reads well and provides a much more comprehensive and user-friendly breakdown of all Rowley services, programs, and options.
Bold New Visual Design
The biggest change for the Rowley Agency website was a new design. The presentation needed to evoke the high level of trust and expertise that the Rowley Agency is known for. We worked closely with the staff to spec and plan out exactly what kinds of photography was essential for the new design. Then we scheduled and directed several photo shoots—both still images and video—to best capture an essence of quality and professionalism. We are very proud of the bold new visual design and overall presentation of the Rowley Agency website.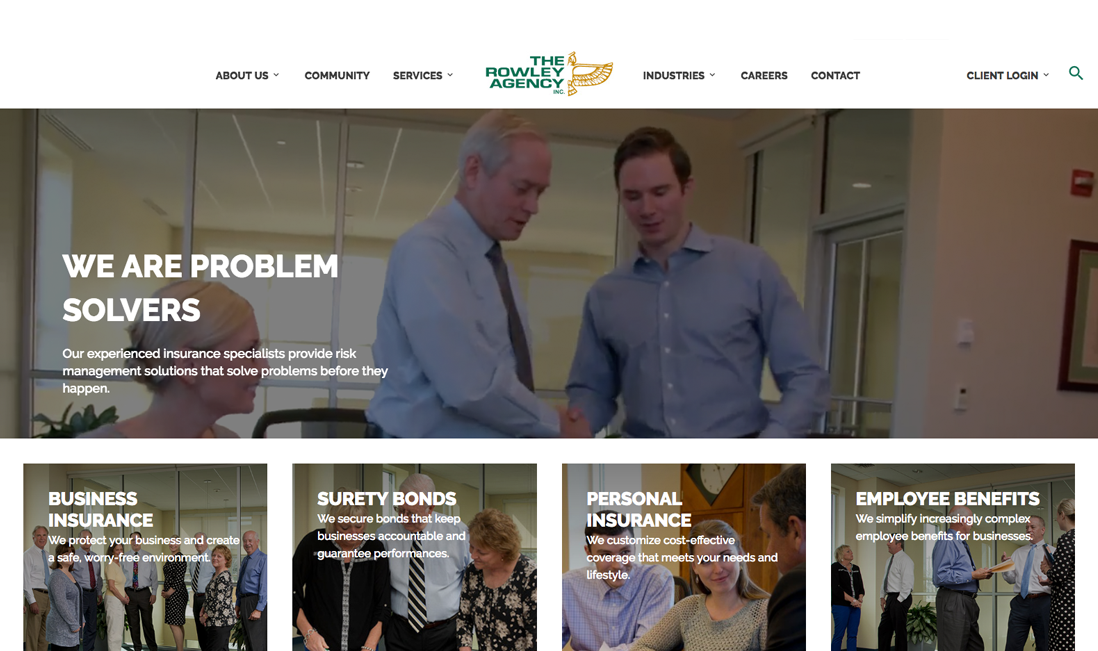 The Results
Since relaunching the new site Rowley Agency has seen the following improvements YOY:
INCREASE in sessions

INCREASE in Average Session Duration

DECREASE in Bounce Rate