Brattleboro Memorial Hospital
Brattleboro Memorial Hospital needed to streamline its website management efforts and improve its design and accessibility. FirstTracks helped BMH to completely redesign its site and merge two separate WordPress sites into one new site, which drastically cut down internal management time.
The Back Story
Founded in 1904, Brattleboro Memorial Hospital (BMH) is a licensed, 61-bed, not-for-profit community hospital located in southeastern Vermont, serving a rural population of about 55,000 people in 22 towns in Vermont, New Hampshire and Massachusetts. BMH has been a client of FirstTracks Marketing since 2009. We have been through many site development projects with BMH, and in that time have developed quite a bit of online real estate. This year it was finally time to take a whole new look at BMH's online presence.
The Goal
The primary goal of the new site redesign was to modernize its presentation and to dramatically improve site accessibility for all devices. Streaming the management of the site was also a goal. To this point, BMH had been maintaining both its main site and an additional medical practices website. This led to a lot of duplicate content editing (especially doctors) between the two sites. Our challenge was to combine both sites into one seamless WordPress application. Visually, Brattleboro Memorial Hospital wanted to showcase more community connection through the new design, which we accomplished with a much bolder visual approach throughout.
Going Responsive with the New Design
The previous BMH website was not mobile friendly, but their practices websites were. Combining the two sites into one, and giving the main BMH site its long- overdue responsive overhaul, was an exciting process. Now it's extremely easy to browse the site from your phone or tablet. The new combined site features convenient menus, quick-to-tap calling features, cleanly integrated search features, and easily accessible doctor and contact information. It all adds up to a vastly improved user experience regardless of what device size or type you are using.
New Design and More Efficient Management of Information
Brand new homepage design
All new doctor search and profile design
Single doctor directory for all services and practices makes profile management a breeze
Doctor relationship feeds to related services is automatically managed using post type relationships
Brand new services section
New services and practices management is made simpler with new custom post type integration and admin controls
Completely redesigned giving section
Redesigned blog section puts much more visual focus on posts
Bold New Design Approach
With the complexity of combining Brattleboro's site data complete, we then focused on getting the look right for the new site. BMH is all about their community and they wanted to showcase that with a more photographic approach. This meant incorporating more large imagery throughout the site. The entire site has a much warmer feel to it and is more inviting. It can be a challenge to make such a dramatic visual change, but the staff at BMH were outstanding and the new photos really showcase the level of care and connection BMH shares with its community. We could not be happier with how the end result turned out. Feedback from the BMH staff and community has been outstanding.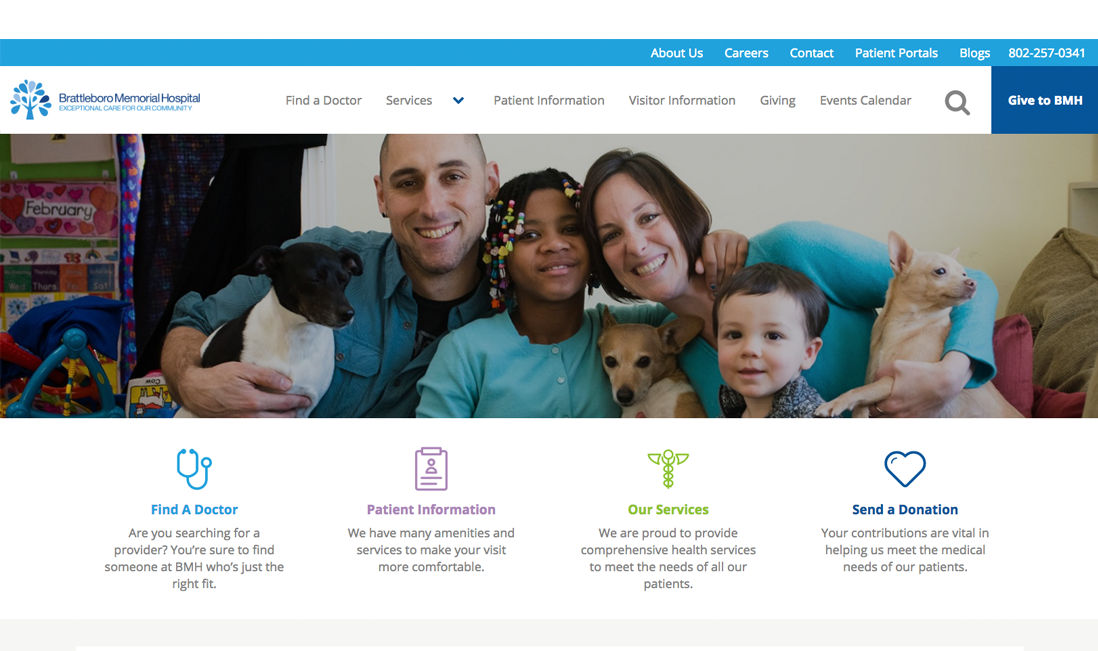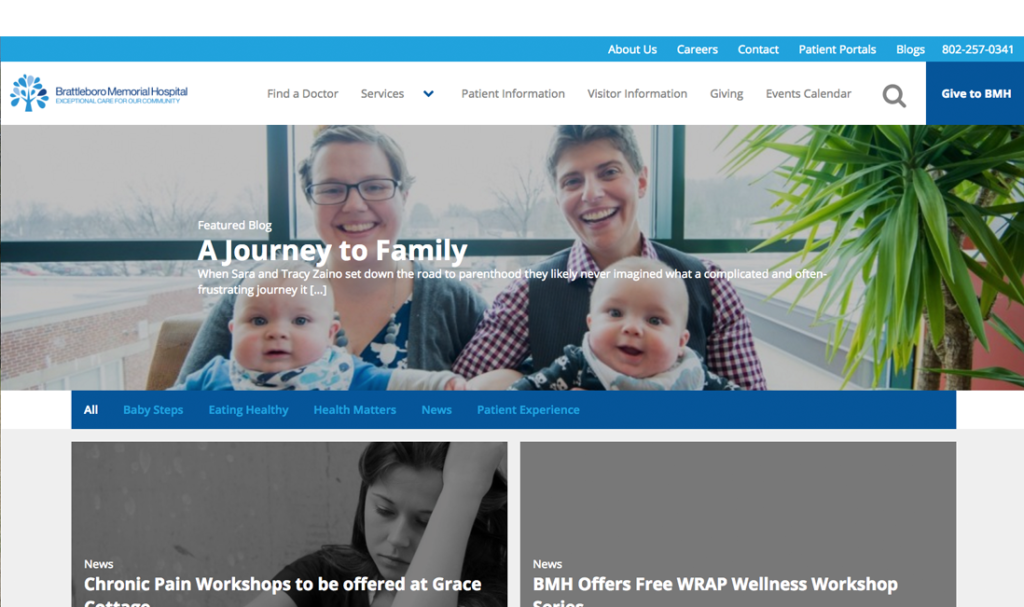 The Results
Since relaunching the new site Brattleboro Memorial Hospital has seen some serious gains:
Overall Sessions Increase

Page Views Increase

Organic Traffic Increase